Home
Why Ted Leonhardt?
A former global creative director with over four decades of experience, Ted can help you with your career challenges.
Watch Making a Difference: Ted Leonhardt on his passion for advising creative professionals or read more about Ted.
01/28

Topic & Location TBA Mentor Mornings is Ted's free meet-up for artists, designers, creative professionals, and students to discuss career-related... View Article

Saturday, January 28
Get the book and Nail It.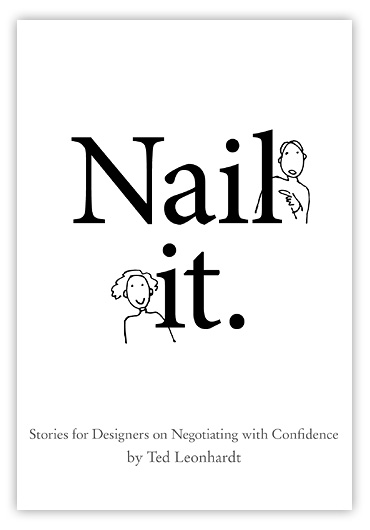 "This little book packs a big wallop for job seekers. Finally, somebody is talking about money!"
I've used Ted's three-step close for years. It works every time.

— Emily Tennison, account executive, global design agency

Ted's white board technique has been the single most effective closing method I've ever encountered. I use it weekly.

— Ross Beyeler, owner, e-commerce design consultancy

Negotiation is truly my Achilles' heel, as it is for so many creatives. That you are so committed to helping us advocate for ourselves is inspiring and motivating. This is exactly what I have been looking for.

— Wynia, architectural glass designer

Ted's teaching about respect has helped me maintain and raise my pricing, without compromise. He's right on target, helping me negotiate and land projects over and over again.

— John Granen, photographer

Ted's insights have helped us improve our pitches, presentations, and overall sales. We've closed more deals on our own terms in the last year than ever before.

— Brianna Home, co-owner, creative agency