For the best value, get the complete Worth It Training Package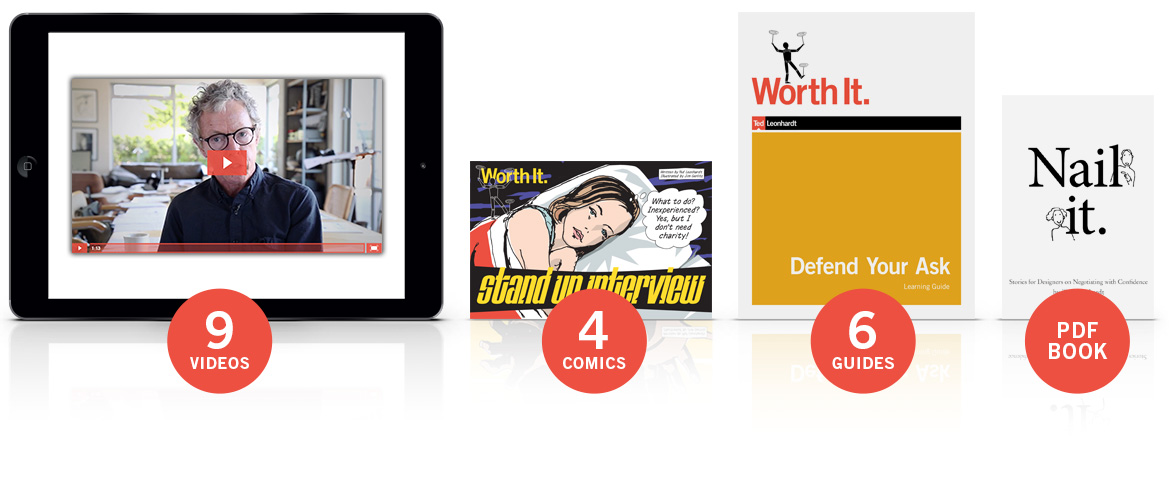 Worth It is a comprehensive series of videos, comic books, and learning guides created to help designers and creative professionals get better work, have less stress, and earn more money.
You can buy each module separately or order the complete Training Package and save 41%! When you buy the complete Training Package, you also receive a bonus video: We Are Creatives is an inspiring declaration that explains exactly why we're worth what we ask for as creative professionals. Plus, the complete Training Package includes Nail It, Ted's e-book that illustrates strategies for negotiating job offers, salaries, contracts, and raises.
List price:
$502


Buy now for: $295
You save:
$207 (41%)
Worth It Training Package
The complete Worth It Training Package includes these modules:
Plus, you get:
All of this valuable content normally sells for $502—but, for a limited time you can get the full program for only $295!
You're sure to get that money back—and much more—in your next project or salary negotiation. In fact, this training will return that investment over and over again. Think: How much would each invoice you send have to increase to recoup your entire investment? How many more projects—projects you wouldn't have won—would it take to get back every dollar you spent?
Our 30-Day Money-Back Guarantee: If you don't get your investment back in your next negotiation, we'll return your money. No questions asked.
Worth It Training Package