Tuesday, June 13, 2017
You lost half your business — now what?

He wasn't surprised when he got the call. Actually, he appreciated that it was a call, not an email, telling him he'd lost the account.
"Joel, I'm sure you know that with our company's reorganization, we've been directed to consolidate the number of suppliers to only a few who meet the new corporate standards," Renee said plainly. "You know how much my team and I have enjoyed working with you. You've done great work. But this decision is out of our hands."
Joel's nerve-racking situation is an all-too-frequent scenario for freelancers and small and medium-size firms that contract with big companies. The reality in those situations is that the bulk of business dollars comes from that one primary corporate client—let's call it the monster client. The loss of the monster client destabilizes a freelancer's or small operation's entire revenue structure. It's disheartening—even terrifying—when the dominant income source walks out. But there are ways to ease the emotional and financial trauma and get back on your feet.
The Monster Disappears
If you've lost your monster client, you might be wondering what happened, what you did wrong. Don't be too hard on yourself. I've been there, and the most common scenario I've seen is that, once we've got the big client, our work tends to lose its individuation and joy—the very things that made us creative and different from every other provider. Big corporate clients rely on stability and predictability, and as their supplier, we're apt to adopt that thinking. You also might be wondering whether your efforts were appreciated.
It's normal to feel personally affronted when a client dumps you.
It's normal to feel personally affronted when a client dumps you, but it's possible—and vital—to move beyond the bad feelings and make sense of what happened. As things unwind, be mindful not to do anything that could endanger positive relations with the soon-to-be former client. Internally, focus on changing your perspective about the relationship and look at the opportunities that your new freedom offers.
First Steps
Whether you're leading a team or on your own, you need to consider how to frame the loss of the monster client in a way that respects both sides and maximizes excitement about your future.
Review what happened and what you're going to do about it. Analyze the good things you learned from working with a big company and make a note of why the account was lost—no whining, just the facts as best you know them.
Then allow yourself to visualize a future in which you have more control over your professional destiny while delivering significant results for new clients.
Whether you're informing your team or giving yourself a pep talk, wrap up with a quick sketch of how your unique combination of talents and experiences will provide significant results to clients that others can't. Review your historical successes and how they will delight and inspire new clients to partner with you.
Managing Monster Losses
Here are some things to consider in order to effectively navigate the transition if and when you lose a monster client.
Before
Avoid the commoditization trap. Within every industry, competition arises between those firms and solo contractors who clients see as doing essentially the same thing. Naturally they're easily replaceable. Dig deeper to find your own unique combination of talents. They are what will make you irreplaceable.
Prepare for the loss. You'll lose clients. That's reality. Always stay equipped to survive by having a Plan B. Make new business development a daily practice, even if you're a solo practitioner and have limited networking time.  
During
Manage your emotional response. Getting that goodbye phone call or email will hit you hard even though you're prepared. Research on loss aversion shows we'll do almost anything to avoid losses because we experience them as more painful than an equivalent gain would be rewarding. In fact, winning an even better client will not wipe out our pain from a loss right away.
Then there's the personal side. In my experience, the client contact always distances themselves in spite of a long and successful working relationship. But it's important to understand that their decision is usually not really personal. Your client's corporate environment is focused on the bottom line, and your personal contact is probably as focused on their own professional advancement as you are.
After
Use the experience to your advantage. The world doesn't know you just lost your biggest client. And even if they do, a corporate reorg that leaves you out won't matter to most. Yes, a big chunk of revenue is lost when a major client ends their contract, but the fact that you made it happen for a corporate behemoth is a credential that positions your reputation even better than before.
Redirect efforts toward what you do best. Working with a corporate client often doesn't fit the level of experimentation and risk that freelancers and smaller firms thrive on. Once the initial rush of winning a prestigious account wears off, creative minds can feel encumbered by tight corporate guidelines. The money may feel great, but enthusiasm for the work can wane.
It's all about fit. Interview prospective clients thoroughly. Look for those entrepreneurial personalities that value what you do best. Consider emerging market segments where opportunity for creating something new is a requirement. As much as possible, only take on work that delights and inspires.
You're not right for every client, but you're just right for a brave few. Your passion for working with those few will create success in ways money never will.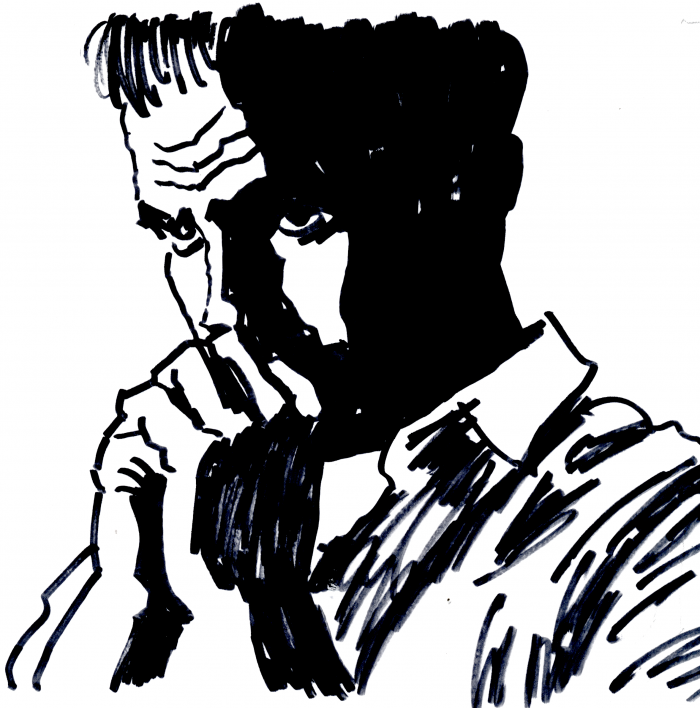 To the Point
A short list of people who are nailing it right now.
Agnes Gund — Art patron used the record-setting sale of Lichtenstein's "Masterpiece" to fund the creation of Art for Justice Fund, a non-profit focused on ending mass incarceration.
This Human of New York profile — I'm a big fan of HONY and the work they do. This interview about losing a job strikes a chord with this week's Nail It topic. Have a read.
Creative Resistance — Started in 2014, this site showcases and catalogs art created in protest around the world.
Need more inspiration?
If you've lost a big client, your next pitch might feel daunting. But you can work through that and win the new business. Check out this one-minute video tip on handling fear.
What's Your Story?
As always, I look forward to your comments and questions. Feel free to comment below or email me directly. And if you have a story to share about how you nailed it, please send it my way — if we use it in the weekly mail, you'll receive a free one-hour coaching session with me.
A version of this article was originally published at Fast Company.