Saturday, May 23, 2020
Colleen Gratzer asks Ted some questions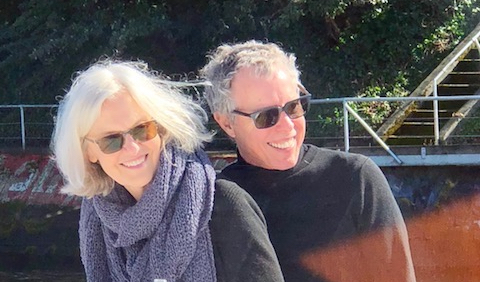 Photo: Ted and his wife Robin McCoy Brooks 
How long have you been in the industry?
My first job as a creative professional was as a design/illustrator for Boeing in 1967. I've been making my way as a professional creative ever since.
However, my work as a creative started much earlier. I began drawing and telling stories from the moment I could talk. But I vividly remember discovering the power of story and art in the second grade with the recognition I got from telling a story and doing an illustration of Columbus' ships. Somehow, I knew I would make my way in the world with these skills even then.
By the way, every creative I've interviewed over the years tells a similar story. These early experiences are something I always remind students of when they tell me they have no experience.
What is your focus?
I help creatives find ways to survive and hopefully thrive as a consultant for $100 an hour.
I write and illustrate both nonfiction and fiction. My nonfiction deals with the struggle we creatives are in to find new ways to support ourselves financially both within the corporate environment and outside of it. Many of my advice articles are on FastCompany. Others are on my blog.
My fiction uses life experiences – experiences that couldn't be made public for all the usual reasons – as the source of story material. With fiction I explore both the struggle we all face and ways of coping while creating sustainable income.
I'm currently investigating Patreon as a source of income for creatives including myself. I just completed my first serial novel. All 30 chapters are available free on my blog.
What led you to do what you're doing now?
The discovery of Naomi Klein's book "No Logo" as I was literally boarding the plane to London to take my new job as Chief Creative Officer/Global for Fitch Worldwide. Ridiculous title but I was oh so proud of it at the time.
I'd built my life climbing the mountain of corporate communications and branding. The purpose of my work and the work of my company was advancing the cause of many of the biggest corporations in the world. Proud of our work and proud of my ability to create great jobs for creatives I was shocked out of my ignorance by Naomi Klein's work.
With "No Logo" I discovered what I'd feared in some small recess of my mind all along. That our work for the corporate world was contributing to the exploitation of labor and the damaging extraction of resources in the quest for endless economic growth. Endless growth that's killing not just people but the planet itself.
Do you have a secret talent?
It's not so secret anymore. But I have orphan syndrome. As a result, for much of my life people underestimated me. This became an advantage in competitive contests for new business with competitors often assuming that as an underdog I'd be easy to best.
What was the worst job you have ever had?
I spent 3 years searching for and finding independent design firm to purchase for a publicly traded corporation. I soon learned that senior management was hated and feared. Creatives were viewed through Excel spreadsheets as expendable resources.
I took the job for the power it gave me, the travel and the connections it provided to design firms all over the world. I sold myself on the position – even though I knew it was morally corrupt – by thinking I could change the corporation. A very ego gratifying thought. A thought that was ridiculous.
Would you rather make headlines for saving somebody's life or winning a Nobel Prize?
I'm just narcissistic enough to want to save creatives from laboring for the global neoliberal elite. Headlines would help.
What TV show or movie would you want to be in?
The Americans. I love the emotional battle between two flawed systems. And the drama depicted at all levels of our lives from family to bureaucracies shaping world events. Robin and I have been binge watching it for a couple of weeks now.