7/19
NAIL Magazine Celebrates Creatives in the Resistance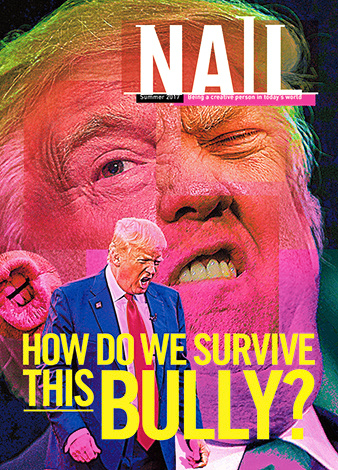 Seattle-based NAIL Shows How Creatives Are Thriving in the Age of Trump
The premiere issue of NAIL, a magazine celebrating the ideas and perspectives of creative professionals, has been published by creative consultant Ted Leonhardt."NAIL's mission is to look at the lives of creatives across the world," says publisher Ted Leonhardt, of TedLeonhardt.com, LLC. "We're interested in how talented, committed, empathetic people thrive in this current moment of incivility, visceral and psychic violence, information bombardment and fake news, and the post-truth culture of Donald Trump."
"NAIL's mission is to look at the lives of creatives across the world," says publisher Ted Leonhardt, of TedLeonhardt.com, LLC. "We're interested in how talented, committed, empathetic people thrive in this current moment of incivility, visceral and psychic violence, information bombardment and fake news, and the post-truth culture of Donald Trump."
The inaugural issue of NAIL features 124 pages of analysis, career tips, and profiles of creatives. In the cover story, "How Do We Survive This Bully?" Leonhardt explores the meaning of leadership and charts a course for how to tack against negotiation bullies by suggesting ways to handle the Trumps of the world.
In two in-depth profiles of exceptional creatives, NAIL features poet Corey Black and cartoonist Ellen Forney. Black is a St. Louis-based spoken word artist who shares lessons in making his poetry his full-time gig. Forney is a well-known Seattle cartoonist whose graphic memoir about bipolar disorder has a continuing impact and is taught in medical schools.
"Personal Branding Sucks!" is an irreverent send-up of the personal branding trend, complete with homages to Andy Warhol and George Lois.
Art direction for NAIL is led by Seattle designer Ross Hogin. The editorial team is led by editor Elea Carey and managing editor Allison Durazzi.
NAIL will be published quarterly and is independently distributed in print ($20) and digital ($14) formats directly from www.nailthemagazine.com. The print version of NAIL is now available for pre-order and will ship on July 20.
About NAIL and TedLeonhardt.com, LLC
NAIL and TedLeonhardt.com, LLC, are projects of business and design expert Ted Leonhardt, former global creative director of FITCH Worldwide. Ted's specialized approach to negotiation helps creative workers build on their strengths and own their value in the marketplace. He is a regular contributor to Fast Company and the author of Nail It: Stories for Designers on Negotiating with Confidence.
Press Contact:
Allison Durazzi
Marketing Director, TedLeonhardt.com, LLC
allison.durazzi@tedleonhardt.com
(206) 972-9419